Once I began to consider everything as being of potential interest, objects released latent layers of value.
- Alain De Botton
Enthusiasts know why getting into fountain pens and its myriad iterations is collectively called the rabbit hole. It is a state of enchantment, a meandering maze to get lost in as we pick up one by one those treasures that we find at each turn. Some of us journey into its corridors with a keen taste for adventure, following every lead to see where it takes us. Others do so with a greater measure of caution, choosing which path to take with care and directing their focus on a specific journey.
No matter which kind of intrepid explorer you might be, there will come a time (or several) when you eventually come face to face with that one pen with features too striking to ignore. It is more than just a simple tool, and instead is a confluence of form and function that fits perfectly in your hand. It calls to you with a siren song, and seems just made for that empty space in your pen case reserved for such an extraordinary writing instrument.
Fountain Pens with Big Personality
Pens such as these have an air about them that sets them apart from the standard models. From the materials used, the quality of function, to the design elements, they draw us to them like those special people who stand out in a crowd. EndlessPens would like to present these chosen few:
Backed by 11 generations of engineering and innovation, this current model of one of Pilot's famous flagship fountain pens truly stands out. It maintains that delicate balance of elegance and style, with its minimalistic appointments complemented by that subtle flash of raden stripes. This would fit well in the hand of someone who values an illustrious history of superb quality coupled with understated style.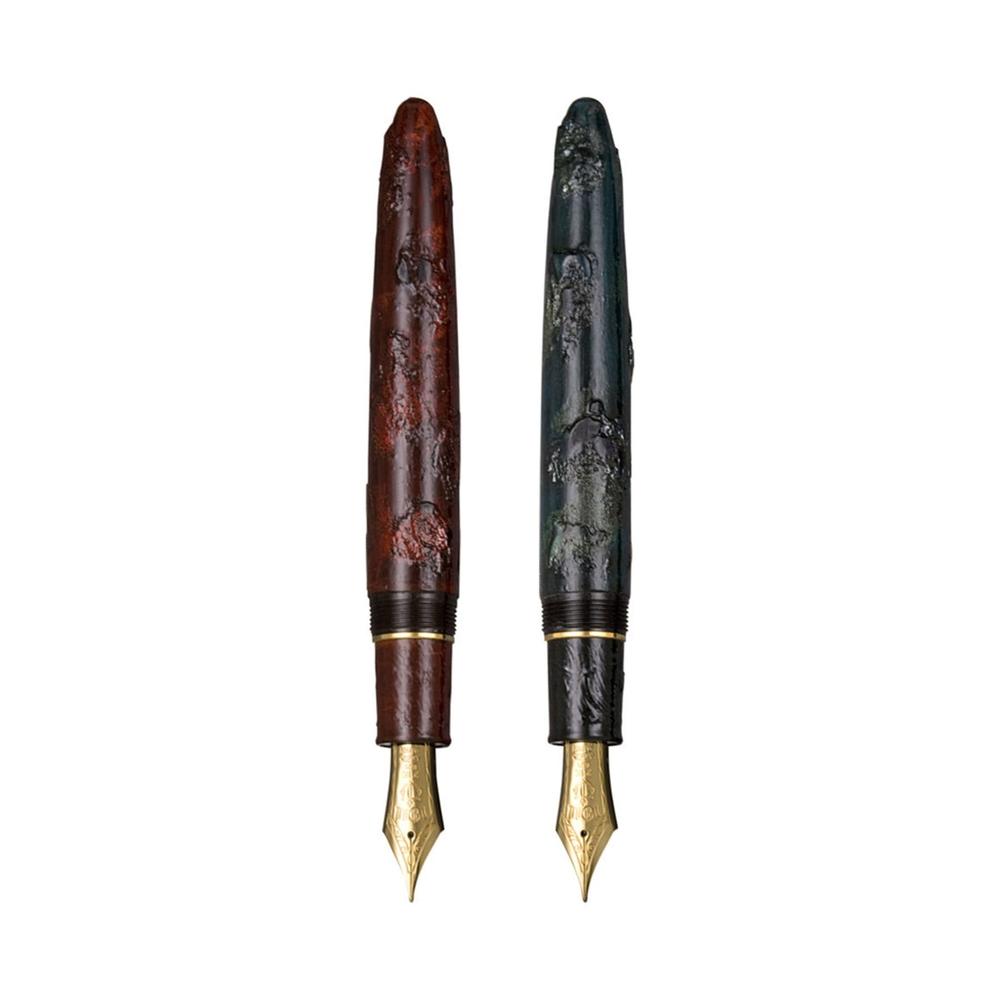 These red and green fountain pens both embody one of Japan's traditional Buddhist teachings. Wabi sabi is a worldview focused on the acceptance of impermanence. Aesthetically, it is the appreciation of the transient and imperfect beauty inspired by nature. The Irogasane Sabinuri technique developed by urushi artist Wayo Shimamori entails the use of rust mixed with raw lacquer to produce the characteristically rough and nodose elements interspersed amongst highly polished areas. Someone who truly appreciates dedicated and mindful craftsmanship would be thrilled with having these end results of such an involved and mindful process.
This fountain pen possesses a delicately shimmering beauty strengthened by the time-honored excellence that Pelikan is known for. The satiny, transparent pen cap and barrel that subtly glimmer with fine golden flecks gives this pen an ethereal quality. Being partial to demonstrator pens myself, I could imagine how much this would delight anyone who finds hypnotic satisfaction from seeing the ink swirl within the pen.
First launched by Narwhal in October 2021, this particular model from the Nautilus series brings back memories of Captain Nemo and adventure on the high seas. This fountain pen utilizes the classic hardiness of black ebonite and pairs it with retro bronze fittings. Proprietary ink windows reminiscent of portholes further highlight its aesthetic. This fountain pen would appeal to those who appreciate a unique, themed design with a distinctive nautical flair.
It was in 1921 when the Parker Duofold first made its mark. Since then, it has become deeply rooted in history as a legendary fountain pen and symbolic of Parker's commitment to excellence in craftsmanship and design. This particular model carries the distinctive ace emblem on its 18-carat solid gold nib, and it is made with ruthenium, a rare transition metal belonging to the platinum element. As such, this fountain pen truly represents a timeless classic taken well into the 21st century. This would be a formidable centerpiece for any fountain pen enthusiast's curated collection.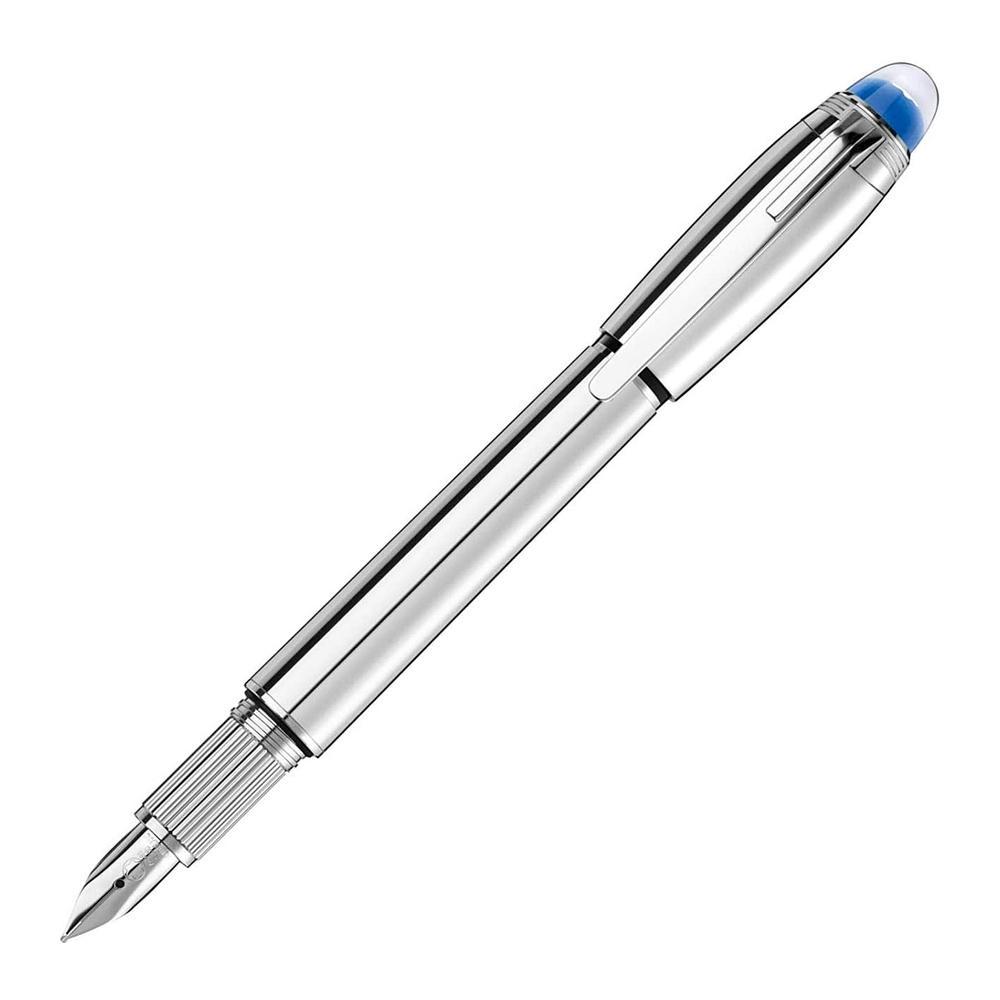 Initially launched in 2003, this 2019 edition is a more modern iteration of Montblanc's iconic Starwalker series. With a more streamlined silhouette and focused design elements, this fountain pen is a testament to the dynamism of innovation and engineering that seeks to improve user experience. Inspired by man's first journey to the Moon, the blue dome of the cap symbolizes Earth while the famous Montblanc emblem signifies the clouds as seen from outer space. With such inspired features, this fountain pen would resonate with anyone who feels the pull of space exploration.
If a pen company steeped in culture and history were to create an evocative fountain pen to celebrate a century of craftsmanship, this particular model would be it. Incorporating elements of classical architecture found in Turin, the first capital of Italy and home to royalty, Aurora managed to encapsulate these in one iconic pen, with its cabochon top, flame guilloche cap and barrel, and intricately etched ring. The 92.5 sterling silver appointments and glazed lacquer finish in deep Aurora Red appropriately reflect the grandeur of this company's birthplace. For someone who appreciates such magnificence realized in a commemorative writing instrument, this particular pen would be a truly worthy asset to have.
There is a particular kind of charm with a fountain pen that is created with a story behind it. Each element of the pen's design is well thought of, from the symbolic nib engraving to the colorway of the pen body. This trifecta of fountain pens is a prime example of such. The collaboration of Tailored Pen Company and @micahfinds on Instagram helps us to experience something more personal and resonant in the form of a fountain pen. Each model echoes with inspiration from scenic locales, cultural nuances, and well-wishes for the future. New Year, New Hue, for example, was featured in a previous article. If you are someone who cherishes fountain pens with a uniquely distinctive aesthetic value, any of these three will entrance you.
This one is a definite head-turner, with its vibrant splashes of color floating within a clear resin body. Its unique vase-shaped silhouette suitably complements this model's name. The playful design is augmented by a high-capacity eyedropper filling system and ink flow regulator that will make writing or sketching sessions more enjoyable. This unusual fountain pen would do well in the hand of someone who appreciates a touch of individuality and quirkiness in their favorite things.
This fountain pen is an ode calling to cinema lovers everywhere. The name itself aptly points to the simple beginnings of the technology we enjoy today. Each element of the pen's aesthetic is thoughtfully crafted to echo a bygone era - from the atramentous resin body, the film strip design of the ring on the barrel, to the mobile film reel crowning the flat-top cover. Accents fashioned from aged, matte-finished 92.5 silver further highlight the user experience. This is a personal favorite of mine, and I have spent a few minutes of reminiscent glee just twirling that tiny reel with my fingers before enjoying the smooth glide of the nib on paper. This fountain pen is another example of how the smallest details, when used to good effect, can transform the simple act of writing with it into a nostalgic experience.
Each of these distinctive fountain pens have certain qualities that make them special. Since it's still February, why not take this chance to let that special someone (or yourself) go on an adventure of exploration, and discover why a particular fountain pen calls with such a unique voice?
Use the code LEKZ10 to get a 10% discount!
* Not applicable for HopDrop, Clearance, On Sale items, and select brands.
Written by @lekzumali
Check out her musings on Instagram!