Words have no power to impress the mind without the exquisite horror of their reality.
⁓ Edgar Allan Poe, from The Narrative of Arthur Gordon Pym of Nantucket, 1838
For the Love of Gothic
Why are we enamored with dark and macabre stories? Why are we drawn to them in spite of the fear they instill in us? Why are gothic tales so resonant?
Gothic stories tap into our innate fascination with the mysterious and the macabre. The genre often explores dark and unsettling themes, such as death, the supernatural, and human psychology, which have an enduring appeal. It allows us to safely confront our fears and anxieties in the realm of fiction.
Gothic literature often features intricate and atmospheric settings, like ancient castles, haunted mansions, and eerie landscapes. These vivid and evocative settings create a strong sense of place that draws us into the story, making it both immersive and visually captivating.
The characters in Gothic literature frequently grapple with complex moral and psychological dilemmas. We can relate to their inner struggles, making the stories emotionally engaging and thought-provoking.
Furthermore, they frequently explore social and cultural issues, such as the constraints of tradition and the consequences of societal norms, rendering them relevant and relatable to contemporary readers.
Lastly, the genre's blend of horror, romance, and suspense offers a wide range of emotions and experiences, catering to diverse tastes and preferences.
Gothic literature's popularity endures because it appeals to our fascination with the mysterious and the unsettling, offers rich and evocative settings, presents complex characters, addresses relevant social themes, and delivers a diverse range of emotional experiences.
Master of the Macabre
Edgar Allan Poe (January 19,1809 - October 7, 1849) was an American writer known for his dark and mysterious tales, poems, and essays. He is often considered one of the most influential figures in American literature, and part of the Romantic Movement. Poe's works are characterized by their macabre and Gothic themes exploring the depths of human psychology and the human condition.
His life was marked by tragedy and hardship. He was orphaned at a young age and struggled with poverty throughout his life. Despite these challenges, he became an accomplished writer, editor, and cutthroat literary critic. His most famous works include The Raven, The Tell-Tale Heart, The Fall of the House of Usher, and The Masque of the Red Death. These pieces often explore themes of death, madness, and the supernatural, earning him a reputation as a master of the macabre.
Poe's writing style is characterized by its meticulous attention to detail and the use of intricate symbolism. His use of first-person narration allows readers to delve into the minds of unreliable narrators, creating an eerie sense of suspense and unease. His poems, like The Raven, are renowned for their rhythmic and melodic qualities.
His literary contributions extended beyond his creative works. As a cutthroat critic and editor, he played a significant role in shaping American literature. He famously criticized other writers and their works. He advocated for a distinct American literary identity, higher wages for writers, and an international copyright law. . His critical essays, such as The Philosophy of Composition, provided valuable insights into his creative process.
Despite his literary success, Poe's personal life was marked by turmoil and tragedy. He struggled with alcoholism and faced frequent financial difficulties. His marriage to his cousin, Virginia Clemm, was marred by her illness and eventual death. Poe's own life ended mysteriously in 1849 when he was found delirious in Baltimore and died shortly thereafter. The exact cause of his death remains the subject of endless speculation.
Edgar Allan Poe's legacy endures through his contributions to American literature. His dark and psychological exploration of the human psyche continues to captivate readers and inspire writers, making him an enduring and influential figure in the world of literature. His work laid the foundation for the development of the mystery, horror, and detective genres in literature, leaving a lasting impact that extends to this day.
EndlessPens Recommends : Edgar Allan Poe's Gothic Delights
In honor of the quintessential American Gothic writer, we offer these picks to whet your appetite for the dark and delightful, with a Gothic touch —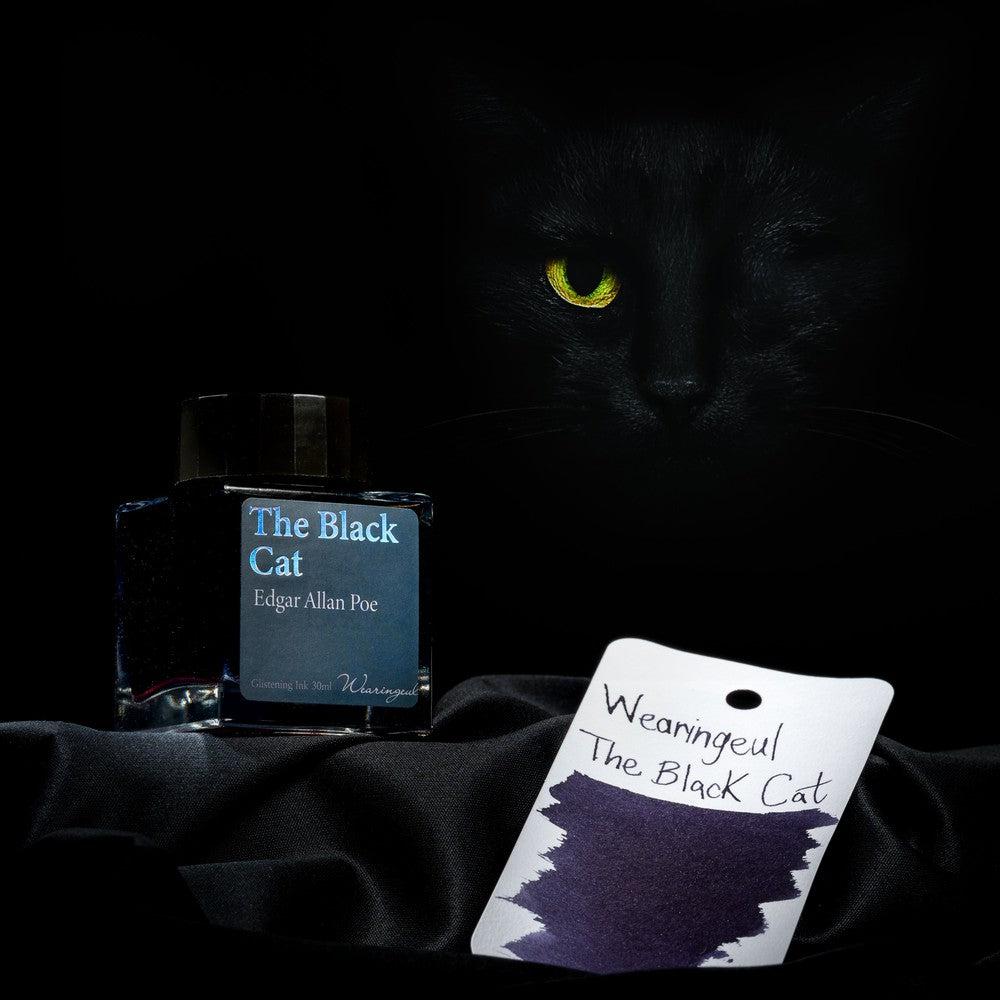 Wearingul Fountain Pen Ink Bottle - The Black Cat – The Wearingeul Ink Bottle (30ml) in The Black Cat Endless Exclusive (2023) offers a unique experience for ink enthusiasts. Inspired by Edgar Allan Poe's classic literature, this dark violet ink features a complementary reddish-copper glitter for a striking look. Enjoy this limited edition bottle before it's too late!
Opus 88 Fountain Pen - Hocus Opus Mini Pocket Pen – Opus 88 x Endless Exclusive Halloween Special for 2022 the "Hocus Opus" fountain pen Illusions by @micahfinds! Opus 88 mini pocket fountain pen is a pocket sized fountain pen that features a blend of translucent acrylic body accented with a stainless steel clip. An eyedropper filler pen with a shut-off valve mechanism matched with a #5 Jowo nib.
Opus 88 Fountain Pen - Halloween Spooks – Halloween is always creative and can even be cute, but it's never not fun! Get those colorful potions flowing and make every season Spooky Season. — Attila Sultis This pen is an special edition EndlessPens Exclusive for 2023!
Washi Tape - Halloween Splash – A little bit of inky Halloween madness, but keeping it cute. Spooky Halloween with fun and happy Halloween is the best combination you can have, especially when pens are included. This 30mm washi tape is an EndlessPens Exclusive for 2023!
Parting Advice from The Master
Edgar Allan Poe believed that the emotional impact of a story was its most crucial element. He advised writers to create a specific mood and atmosphere that would resonate with the reader. He stressed the importance of using precise and evocative language. Every word should contribute to the story's impact, and excess should be eliminated. While his works are often dark and gothic, his characters are deeply human and relatable. Even in the midst of the supernatural and macabre, they often grapple with universal human emotions and conflicts.
There is no exquisite beauty… without some strangeness in the proportion"
⁓ Edgar Allan Poe, from Ligeia, 1838
Use the code LEKZ10 to get a 10% discount!
* Not applicable for HopDrop, Clearance, On Sale items, and select brands.
Written by @lekzumali
Check out her musings on Instagram!