To really ask is to open the door to the whirlwind. The answer may annihilate the question and the questioner.
— Anne Rice
There are moments when the pages turn quickly
Other times, a languid flip like a slow whisper
But always

soft touch of skin on dry paper
flesh and bone against the husks of trees
It stays past the final word
From ink to thought, it flows
Weaving through breath and blood

its nest in dark corners
flitting at the edges of sight
And the question remains
The Lure of Horror
Fear isn't everyone's cup of tea (or coffee). Why are some of us drawn to horror stories, while others aren't? Here are some of insights —
Vicarious Experience – Horror stories trigger the body's fight-or-flight response, releasing adrenaline and giving a rush of excitement. Research has shown that horror fans are usually those who enjoy intellectual stimulation and imaginative activities, and that many are sensation seekers. Horror allows us to confront our fears and anxieties in a safe and controlled environment. By facing the monsters and terrors in fiction, we can also process and release pent-up emotions, offering a sense of catharsis and relief.
Threat Mastery – Horror taps into our primal survival instincts. We relate to characters facing life-threatening situations and their struggles and triumphs. We choose the experience to get a sense of how to respond to similar threats, helping reinforce our own survival skills. One study has reported that horror fans experienced less psychological distress during the pandemic. Perhaps being exposed to the disquiet and unpredictability common in the horror genre enables us to be more psychologically resilient.
Exploration Into The Dark Side – Given our innate curiosity, many of us are intrigued by what our species is capable of. Horror often confronts us with ethical dilemmas and the blurred lines between good and evil. These moral quandaries can provoke thought and discussion. Horror is likewise deeply ingrained in human culture, reflecting societal anxieties, folklore, and legends. We are drawn to it as a way to engage with shared cultural fears and archetypal narratives.
Research proposes a protective psychological framework that enables us to enjoy being horrified. First is the belief in our physical safety. A controlled and secure environment allows us to derive pleasure from immersing ourselves in fear and terror. The second frame involves psychological detachment, enabling us to experience the story vicariously while grounded in reality. And the third entails confidence in our capacity to control and manage the dangers we may encounter.
EndlessPens Recommends: Anne Rice's Lush Gothic
Anne Rice was an American author best known for her influential contributions to the Gothic and vampire fiction genres. Born October 4, 1941 in New Orleans, her Southern upbringing deeply influenced her writing style — characterized by lush, atmospheric prose and vivid depictions of the supernatural.
She gained widespread acclaim with her 1976 novel Interview with the Vampire, which introduced the world to the charismatic vampire Lestat. This book marked a departure from traditional vampire lore, portraying vampires as complex, tragic figures rather than mere bloodthirsty monsters. This novel led to The Vampire Chronicles series.
Her writing was known for its sensuality and exploration of themes like immortality, morality, and the nature of evil. While her work garnered a dedicated fanbase, it also sparked controversy for its explicit content and dark subject matter.
If we were to capture the lushness of Anne Rice's literary work through fountain pens, here are some recommendations —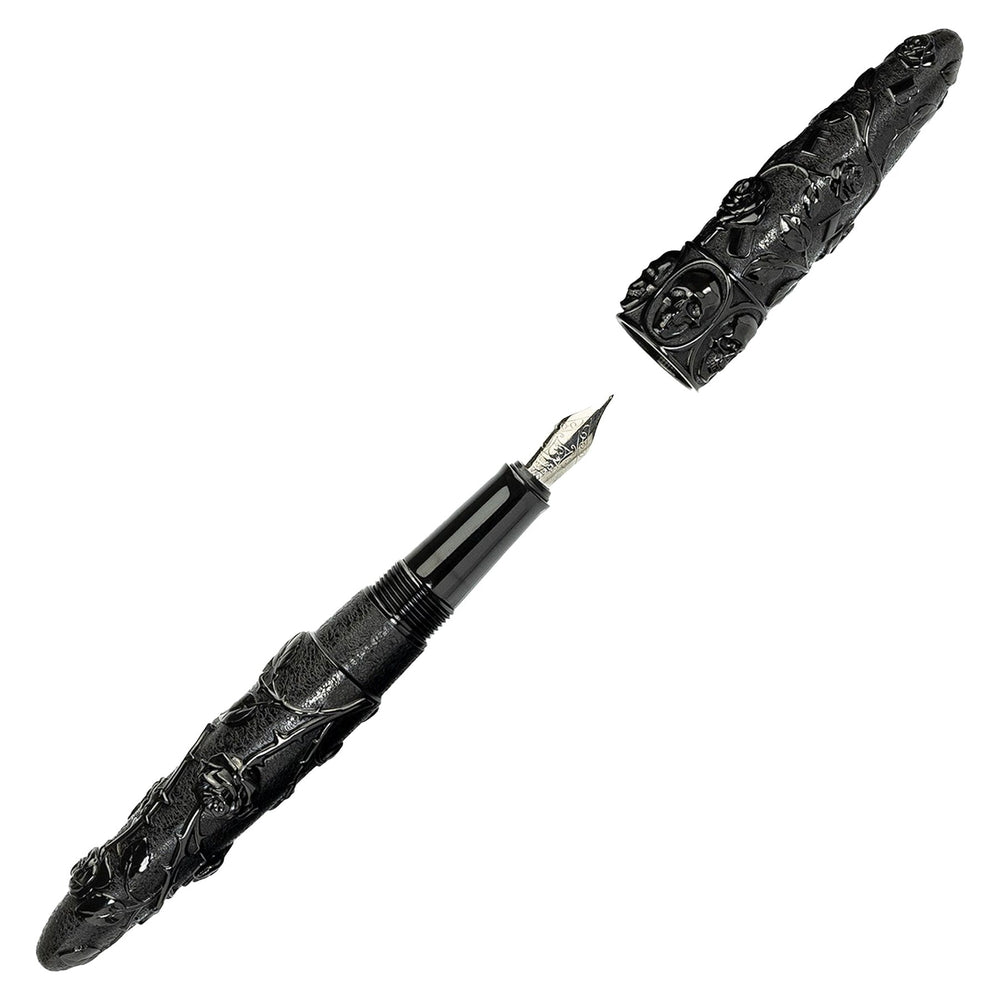 BENU Skulls and Roses Crow Fountain Pen – BENU Skulls & Roses collection draws inspiration from the iconic motif symbolizing the battle between good and evil. The Crow fountain pen boasts a striking black hue and eye-catching design. Delicately etched roses adorn the cap and barrel of the cell. The ring also functions as a stopper, ensuring the pen stays in place and doesn't roll off any surface. Crafted with traditional artistry and contemporary elegance, this fountain pen epitomizes sophistication. It boasts a #5 Schmidt stainless steel nib and a luxurious, high-quality resin body, sure to elevate any writing experience.
Leonardo Momento Magico Millefiori Fountain Pen (14K Gold) – Millefiori translates to a thousand flowers and is also the glassmaking technique that Murano glassmakers are famous for. This resin is an imagination of fall flowers translated to this exquisite craft of millefiori. This is available with gold or silver finish.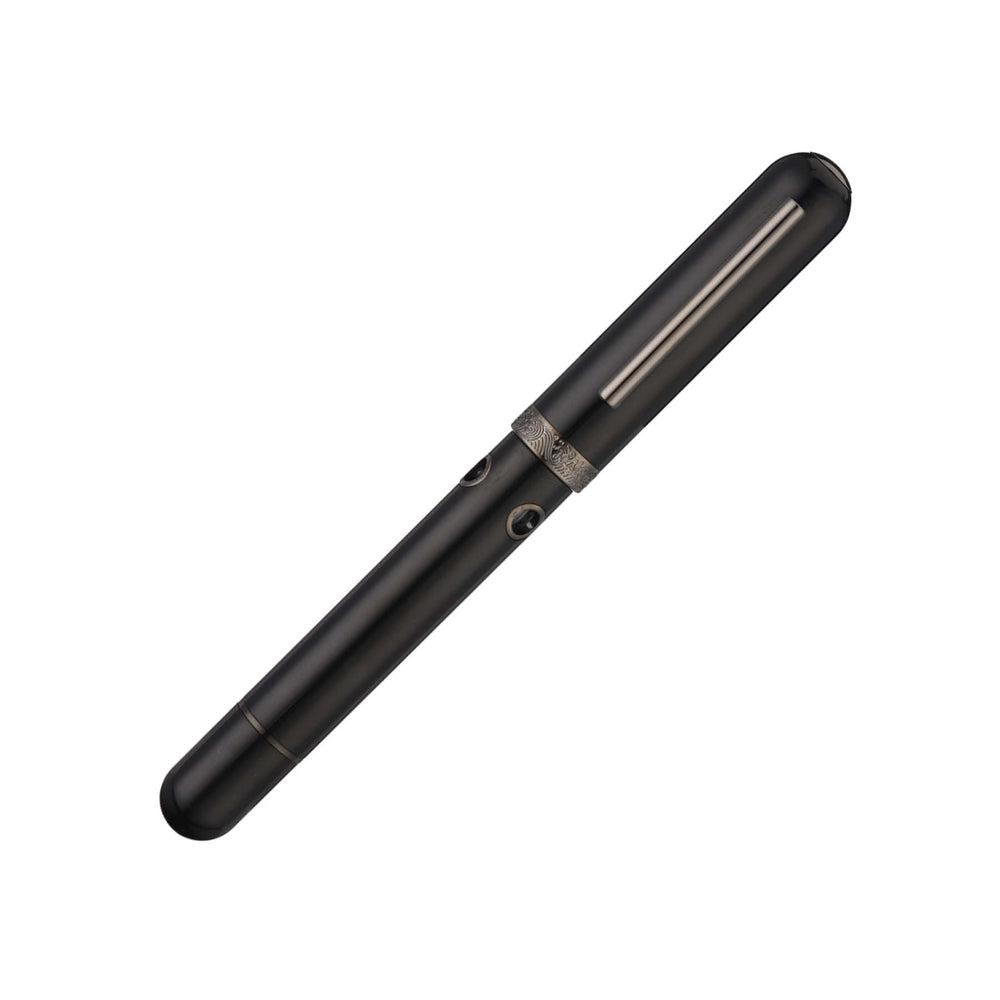 Nahvalur (Narwhal) Nautilus - Cephalopod Black Fountain Pen – Cephalopod Black features an elegant black ebonite cap and body accented with ion-finished black trims. The most distinct feature of this model is Narwhal's proprietary ink window with three intricate ink windows carved on the barrel of the pen. This series features a piston filling mechanism with in-house nibs.
EndlessPens Recommends: Clive Barker's Dark Wonders
Clive Barker, born on October 5, 1952 in Liverpool, England, is a prolific and influential figure in the realms of horror, fantasy, and dark fiction. He is celebrated for his imaginative storytelling, unique blend of horror and fantasy, and his contributions to both literature and film.
Barker's early works, including his Books of Blood series, established him as a master of horror short stories. These tales explored a wide range of themes, from visceral and grotesque horror to more profound examinations of human nature and desires. His willingness to explore the darker aspects of human nature has earned him a reputation for thought-provoking and sometimes controversial storytelling. His novel Imajica is a prime example of his ability to create expansive, otherworldly settings and intricate mythologies.
One of Barker's most famous creations is the Hellraiser franchise, which began with his novella The Hellbound Heart. This dark, disturbing narrative introduced the iconic character Pinhead and the enigmatic puzzle box known as the Lament Configuration. The Hellraiser films became cult classics and solidified Barker's status as a prominent figure in the horror genre.
A fountain pen can be an emblem of a story or a character. As for Clive Barker's dark and wonderful worlds, here are a few inspired choices —
Tailored Pen Company Santelmo (St. Elmo's Fire) Fountain Pen – Our Santelmo-inspired pen is a family affair remembering the forgotten. My eldest, Vidya, who is fascinated by the supernatural and stories of the peculiar, helped me put together this concept. Kahlil, my husband, helped to design the nib engraving inspired by our Pilipino tribal art. The Santelmo pen is our family's way of celebrating those lost souls this coming All Souls Day. May you find peace wherever you are.
Santelmo (St. Elmo's Fire) features a blank designed by Kat and Vidya, and produced by Tailored Pen Company on their Churchill model. It is similar to the Westminster with the main difference being that the body and the cap transition smoothly with no difference in size. The ends are more tapered and angle to a point. The stainless steel nib features a nib engraving inspired by Filipino tribal art. Only 18 pens worldwide.
Kilk Celestial Blue and Black Fountain Pen – This fountain pen features a two-tone blue and black resin cap. The body, top cap, grip and barrel end are in black. The geometrical pattern on silver cap finial is Carkifelek (Wheel of Fortune) and the 12–cornered pattern on silver band (dodecagon) is referring to the complex but perfect order of the astronomical zodiac. The clip, finial and cap band is 925K cast sterling silver. The silver is made of a special silver alloy and hardened with special techniques to ensure the flexibility.
Nahvalur (Narwhal) Horizon Dawn Fountain Pen – This collection draws inspiration from the view of the horizon at different times of the day or under different natural phenomena. Each pen is made from a uniquely handcrafted piece of resin that beautifully fades between captivating colors that were meticulously picked. It brings a creative modern twist to the classic cigar shape. With its curved metal ring, representing the waves of the ocean, and Nahvalur's signature ink window, representing the sky behind the waves, the collection strives for the perfect balance between modern creativity and cherished classics. Inspired by the colors of the morning sky, its body a wash of blues and oranges, Nahvalur's Horizon Dawn offers a glimpse of the divine in its elegant and tasteful design. Crafted to offer a luxuriously smooth writing experience, it is the perfect choice for those looking to make a statement.
Together Amidst The Darkness
Horror stories have a unique ability to connect people. They provide a shared experience that we can discuss and bond over. The anticipation, fear, and excitement while reading a chilling book create a common emotional ground for us. Horror encourages creative collaboration, through writing fiction or crafting art both inspired and original. Through this genre, we can openly discuss our fascination with darkness, fear, and the macabre in safe spaces without judgment. These communities we build through the sharing of stories nurture a sense of belonging and encourage relationships through the common threads of fascination, catharsis, and connection within the thrilling and unsettling world of horror.
My imagination is my polestar; I steer by that.
— Clive Barker
Happy Birthday Anne Rice and Clive Barker!
Use the code LEKZ10 to get a 10% discount!
* Not applicable for HopDrop, Clearance, On Sale items, and select brands.
Written by @lekzumali
Check out her musings on Instagram!