The Ocean As Inspiration
Among all the planets in the Solar System, there is none like Earth. Its distance from the Sun as well as its period of rotation allows it to receive just the right amount of life-giving solar radiation to maintain a mean surface temperature that enables only little variation. This in turn, allows water in all of its three physical states: solid, liquid, and gas, to exist. Our planet is unique in this respect. Water's liquid phase is predominant, with more than 97 percent of it existing as oceanic water and associated sea ice.
The global ocean, geographically comprised of the Arctic, Atlantic, Indian, Pacific, and Southern oceans, constitutes about 70 percent of the Earth's surface.  It is one of our planet's vital forces of Nature. Aside from sustaining a myriad of organisms, it influences weather, regulates temperature, and shapes the climate. It has been instrumental in the development of transport, commerce, and culture. It is such an integral part of our existence on Earth that drawing inspiration from it would be second nature. 
Within our own world of fountain pens, the influence of the ocean is immediately apparent. From its mutable nature, to the interplay of light and liquid, and its dynamic ecosystem; there seems to be an endless source of inspiration for creativity and innovation. Various pen brands have harnessed these interconnected aspects of the ocean, and have conceptualized these into products that translate into experience.
One of the most striking and attractive features of the ocean is its colour. Blue, green, and all the shades in between offer so many permutations to a fountain pen designer and ink manufacturer. Add to these the way that sunlight or moonlight plays on the water's reflective surface, and the prospects for designs are subsequently multiplied.
Fountain Pens As Products of Inspiration
One of major forms of expression of these ideas is through the fountain pen body's visual design. Specimens of this can be seen among EndlessPens' collection. One is Aurora's Style fountain pen in Aquamarine (Latin aqua for "water", and marina for "from the sea"), with a blue-green colour said to represent the calm sea bathed in sunlight. Another example is Lamy Al-Star Ocean Blue, a bright and vibrant blue of the ocean in the height of summer. Manuscript's ML1856 fountain pen in Turquoise Blue is another energetic iteration of the hues seen within the ocean's depths. The chatoyance seen in Aurora's Limited Edition Oceano Antartico captures the scintillating ripples of the marine surface touched by the sun's rays. Waterman's Special Edition Hémisphѐre "French Riviera" Jubiläums in Sea Blue/Chrome likewise mirrors the gleaming waters of the Mediterranean. In contrast, Sailor 1911 Special Edition Stormy Sea calls to mind the dark and turbulent waters made restless by inclement weather.
The Many Colours of Fountain Pen Inks
As seen from the fountain pens that were previously mentioned, another method that pen brands have utilized this inspiration is by naming their pens in ways that reflect the features of the ocean. These names usually match the fountain pens' colour, in the nuances of blues and blue-greens that echo the ocean's ever-changing face. 
Another form that inspiration takes can be seen in the multitude of inks from different fountain pen ink brands, all made to celebrate the allure of the ocean. How many blue, bluish-green, and greenish-blue inks can you name? Among the ink brands found in EndlessPens, Diamine has one of the most extensive colour selections. Shimmer Inks in Enchanted Ocean, Shimmering Seas, Starlit Sea, and Tropical Glow all together paint a complex and scintillating portrait of the ocean. Within its regular line, there is Aqua Blue, Marine, and Mediterranean Blue. Robert Oster Signature Inks is another pen ink brand known for its wide variety of colours. From green, to blue and teal, there is Deep Sea, Grey Seas, Marine, Ocean, Torquay, and Tranquility. Shake' N' Shimmy has its Crystal Marine as well. Pilot Iroshizuku Shin-kai or "Deep Sea" is a cool, blue-black ink with shading and reddish sheen in pooled areas. Manuscript has a Shimmer Ink line with glittery Enchanted Seas and Ocean Wave, which are a marine blue-green and bright sunlit blue, respectively. Graf Von Faber-Castell Ink has a shading Deep Sea Green. All of these inks (as well as those I haven't mentioned or am aware of), with their similarities in colours and names, reveal a kindred affinity for the ocean and its aspects. It underscores that deep current of shared inspiration that shapes what we create and what we are drawn to. I wonder, how many of these inks have you tried?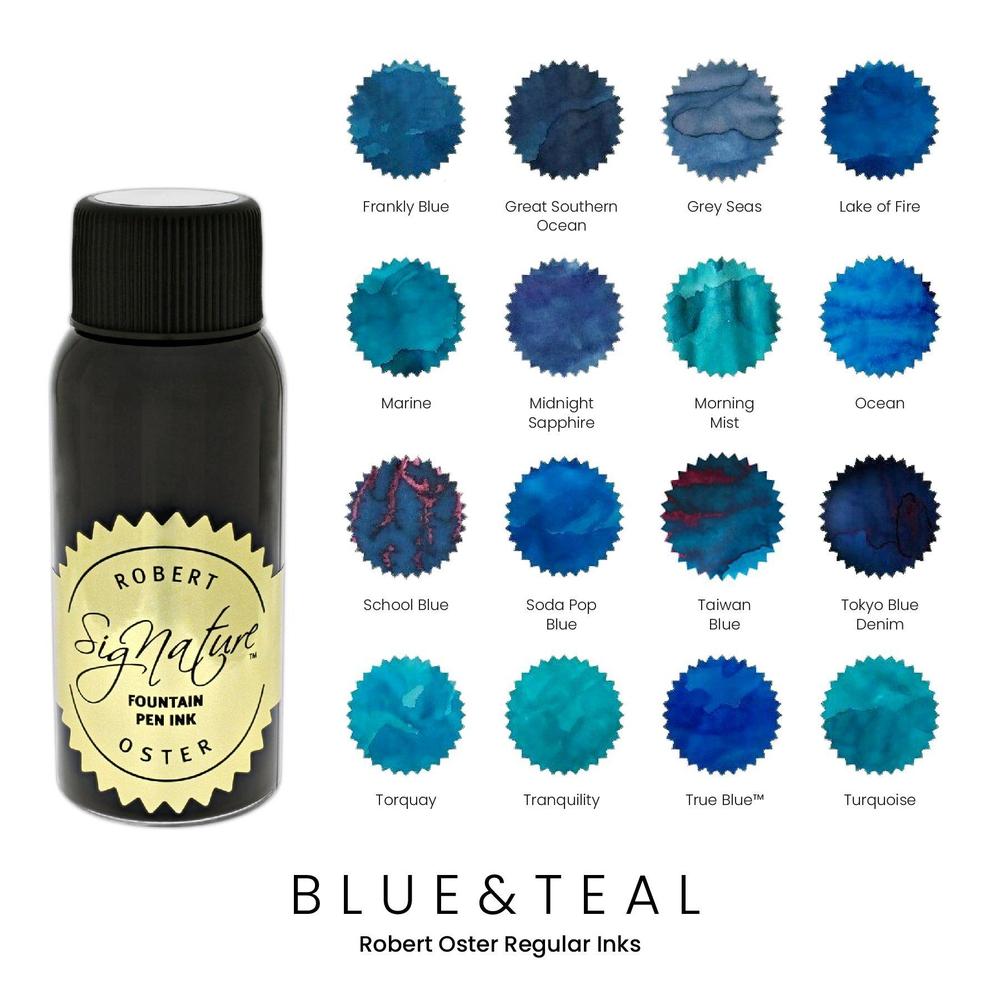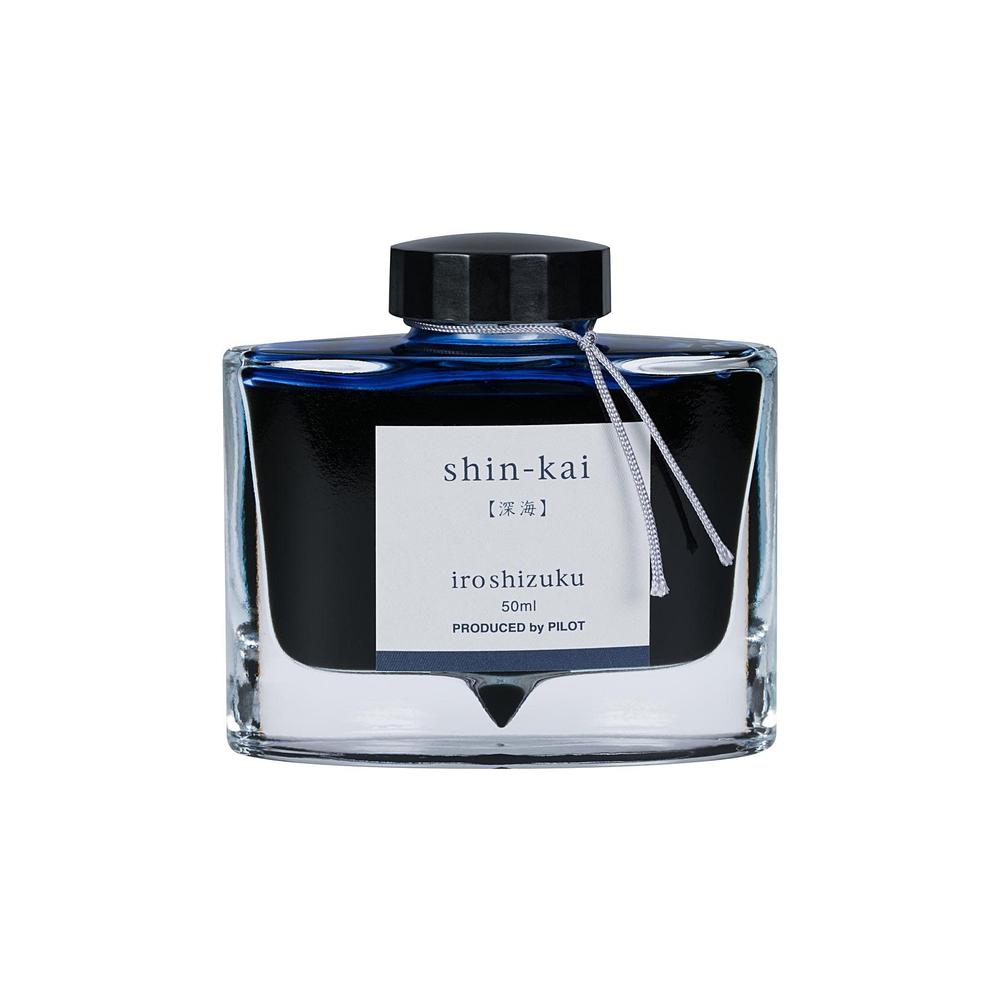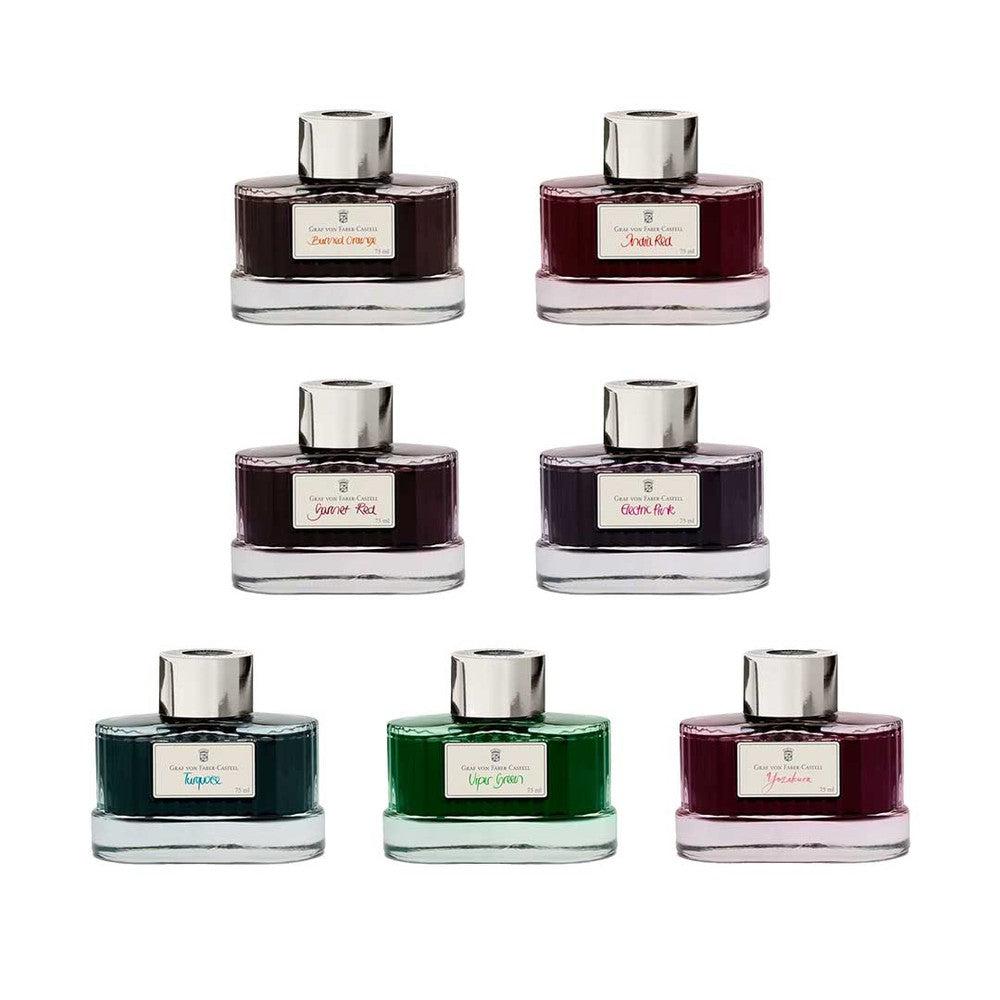 An alternate path through which inspiration can take material form is exhibited by Anderillium Inks. Born from the company's ethos of environmental awareness, these fountain pen inks in their Cephalopod Series are namesakes of various marine creatures. Each colour is tailored to represent a particular organism's distinctive physical characteristic, behaviour, or habitat. Among these are Cuttlefish Brown, Bobtail Squid Green, Flapjack Octopus Orange, Spirula Green, Colossal Squid Dark, Vampire Squid Red, Flying Squid Blue, and Blue-Ringed Octopus Blue. Each bottle with its counterpart creature is like an invitation to learn more about these denizens of the deep.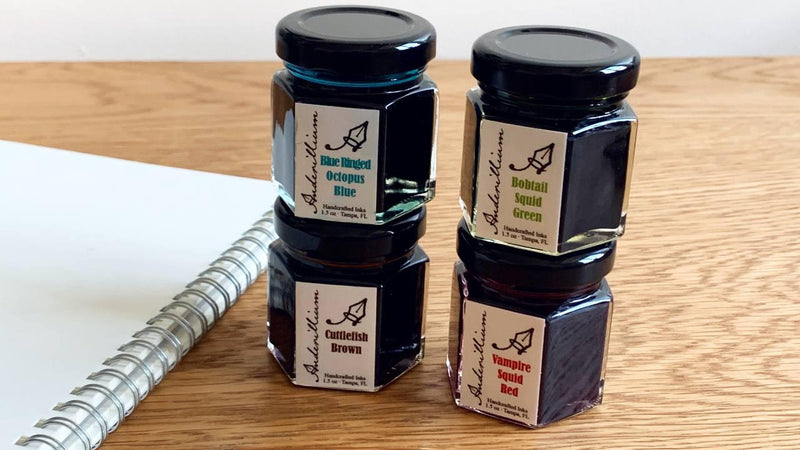 Fountain Pen Nib Design
Aside from the fountain pen body and ink colours or names, another way to harness inspiration from the ocean and actualize it is through the nib imprint design. Sailor has done this, in Limited Editions and collaborations, as seen in the Umiushi ("Sea Slug") Pro Gear Slim Mini series collaboration with Kingdom Note, as well as in the Limited Edition Pro Gear Jellyfish Aquarium. The fountain pen nibs were intricately engraved with the sea creatures from which they were named after.
Inspiration + Potential
All of these examples illustrate how seemingly boundless the ocean and its features can be as a source of motivation to create. The similarities in products between fountain pen and ink brands prove how its inciting force can transcend boundaries. I think the ocean's immeasurable power to influence not just our environment, but our perceptions as well, helps us share that spark of creativity. Like its waters that span the Earth, presently immeasurable in its vastness and wealth of organisms, the ocean's siren call to our psyche is deep and wrought with potential. That pen in your hand that glistens in the sun, or the ink that flows bright as tropical waters are wonderful tools that celebrate humanity's love affair with the lifeblood of our planet.
Use the code LEKZ10 to get a 10% discount!
* Not applicable for HopDrop, Clearance, On Sale items, and select brands.
Written by @lekzumali
Check out her musings on Instagram!