As the world's most love-filled day quickly approaches, what to get your significant other to show your appreciation of them weighs heavily on the mind. Maybe a ring to seal the deal. Maybe a nice watch for the Mister. A new car for the Missus? Or, what about getting your loved one the timeless gift of a fountain pen that they can use forever and pass down to future generations? Well, here at EndlessPens, have we got the solution for you! Read on to learn what we recommend for Him and for Her, when it comes to getting the best Valentine's Day Gift!
For Him: Starter Pen
If your man is just getting started in the world of fountain pens, and you want to give him the best shot at sticking with the hobby, the team at EndlessPens recommends going with the LAMY Safari Fountain Pen with a medium nib. LAMY's ingenious, modern design of their Safari model fits perfectly with the minimalist mindset. Additionally, the white colorway will blend into a professional environment, while still being different from the countless dark blue or black pens you see lying around the office. When all of that greatness is paired with the LAMY proprietary medium nib, the pen really shines. The nib is smooth and responsive, meaning that it glides effortlessly across the page. It gives a true medium line that comes in handy both for taking notes in meetings and for signing important documents throughout the workday. For just under $30, what more can you ask for?
For Her: Starter Pen
Do you want to be the power couple of the century? Well, for a perfect match with the white LAMY Safari, we have decided to bring to you the LAMY Safari Red with a fine nib! The beautiful, deep red resin invokes feelings of love and passion, perfect for any Valentine's Day gift. Additionally, the fine nib accommodates for smaller writing, and can be used on a whole slew of different paper-types. Gift this red LAMY Safari to the most special woman in your life!
For Him: High-End Fountain Pen
Looking to get something with a little more wow-factor? Look no further than the 2020 special edition Pelikan Souverän M600 Tortoiseshell Fountain Pen! This mid-tier Pelikan fountain pen is bright and bold, with its red cap, piston knob, and section. It has beautiful gold accents and a gorgeous red, gold, silver, and orange striated celluloid barrel. It is a piston filler fountain pen with a 14 carat gold nib. The nib has a truly amazing amount of feedback on the page, making it perfect for long writing sessions, when you don't want to be slipping and sliding around with an ultra-smooth nib. Though the red cap and multi-colored barrel are eye-catching, the pen is muted enough to be acceptable in a professional environment. Coming in at $389.99, the Pelikan Souverän M600 Tortoiseshell-Red is sure to knock his socks off!
Pelikan M600 Souverän Tortoiseshell Red Fountain Pen - Special Edition (2020)
For Her: High-End Fountain Pen
To finish off the list, we have the Pelikan Souverän M405 Fountain Pen. The M400/405 level of the Souverän line is the smallest gold nib pen Pelikan offers. Because of this, it is better suited for small hands. The 14 carat fine nib provides a consistent, generously wet line of ink that will satisfy anyone using the pen. Due to the cap, piston knob, and section being white and the barrel being striated silver celluloid, the M405 Silver-White can be paired with any ink color, from a dark, professional ink for in the office to a brighter, shimmer ink for writing letters to friends! At $321.99, the Pelikan Souverän M405 Silver-White is the perfect Valentine's Day gift for the woman of your dreams!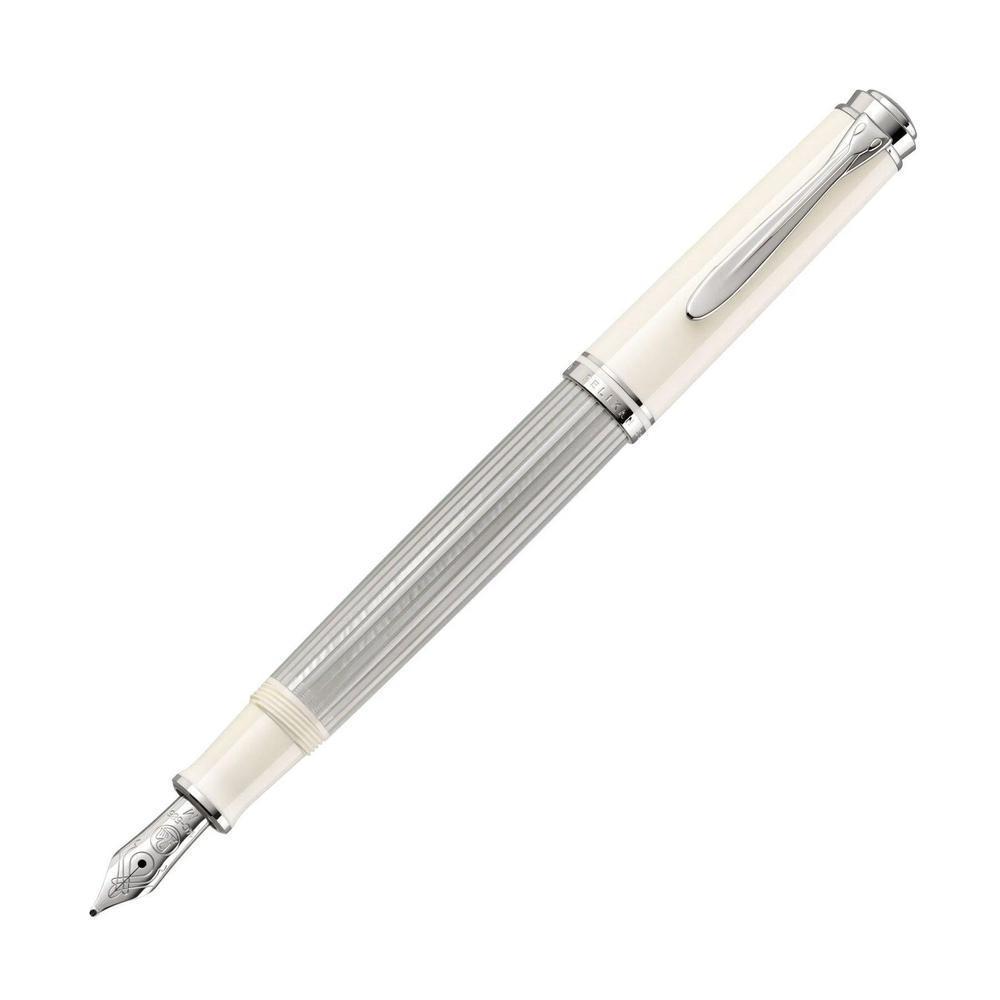 Written by EndlessPens Blogger Arlo Palmer