"Happy is the man who finds a true friend, and far happier is he who finds that true friend in his wife."
— Franz Schubert
A Brief History
Since 2006, the third Sunday of September has been designated as the one day given to unanimously honor wives and what they embody in our lives. There is no record of who initiated the tradition, and it is not considered an official national holiday. And yet, it has become a special day celebrated by couples and families worldwide.
Reasons for the Day
Having a day on the calendar specifically dedicated to wives brings their significance into focus. There are many other holidays that acknowledge family and mothers, but this one is particularly commemorated to honor the wife as a role and a vocation. It is that chance to openly show your appreciation beyond the usual, everyday affection. This is your chance to fully express your gratitude for what they bring into your lives.
Wives are one half of a full time partnership. Traditionally, they have distinct parts to play that drive the dynamics of being a couple. The benefits they bring into the relationship help make it richer and stronger. From those little, day-to-day moments to the more life-changing events, your wife has been there beside you. How many times have you looked for something, only for your wife to tell you exactly where you had left it? (This is a minor example, yet so true.) What about that stressful week while working from home, and your wife was there to listen and reassure you? (And she has been pulling all-nighters too.)
Classically, the daily activities that make a home a comfortable place fall under the wife's purview. The routine that is often taken for granted holds the basic ingredients that create a space wherein we can relax and rest. These include but are not limited to: shopping for groceries, cooking meals, doing the laundry, cleaning the house, managing the bills, as well as providing an added source of income. Perspectives may have changed but the essence of being a good wife stays the same. The elements a wife brings to the table complement the husband's endeavors. These combine and work together towards an enduring relationship that aims to make each partner a better person.
Speaking for myself, having a day dedicated to me helps to underline my significance, and is a morale booster as well. There are times when I need to be reminded that I am appreciated, even if the things that I do are done willingly and with love. I think the feeling is the same for anyone else. We are heartened by such expressions of thankfulness, and encouraged to continue our efforts.
How to Celebrate Wives on This Day
There are so many ways to show how much you appreciate your wife, from the uniquely personal gestures to the more classic tokens of love. You can surprise her with breakfast in bed, give her a whole day to relax at home and do whatever she wants with her free time, or treat her to a safe spa appointment. As a husband, you have an up close and personal insight into what makes your wife happy. Whatever you do, remember to let your wife know that you appreciate her.
For those wives who love writing and fountain pens (like me), EndlessPens has some lovely selections for this special day. Here are a few choices I would gladly point my husband to: 
EndlessPens Gift Set - Gifts of Autumn - Fall Colors - This curated collection of fountain pen, fountain pen inks, and a converter holds a world of possibilities within it. The Lamy Vista fountain pen is known for its durability, perfect for daily journaling or as an everyday carry fountain pen. The Robert Oster Signature Inks in Aussie Brown, Orange Rumble, and Yellow Sunrise are richly saturated fountain pen inks that truly embody the fall season. The added Lamy Z28 fountain pen converter completes this set nicely.
EndlessPens Gift Set - Gifts of Autumn - Toffee - This mini set is simple and luxe at the same time. The Lamy LX fountain pen in Palladium finish adds a touch of elegance to a dependable, daily writer. It is complemented by Robert Oster Signature Ink in Toffee for a warm, deep brown fountain pen ink that is an indulgent treat for the eyes. A Lamy Z28 converter adds the finishing touch.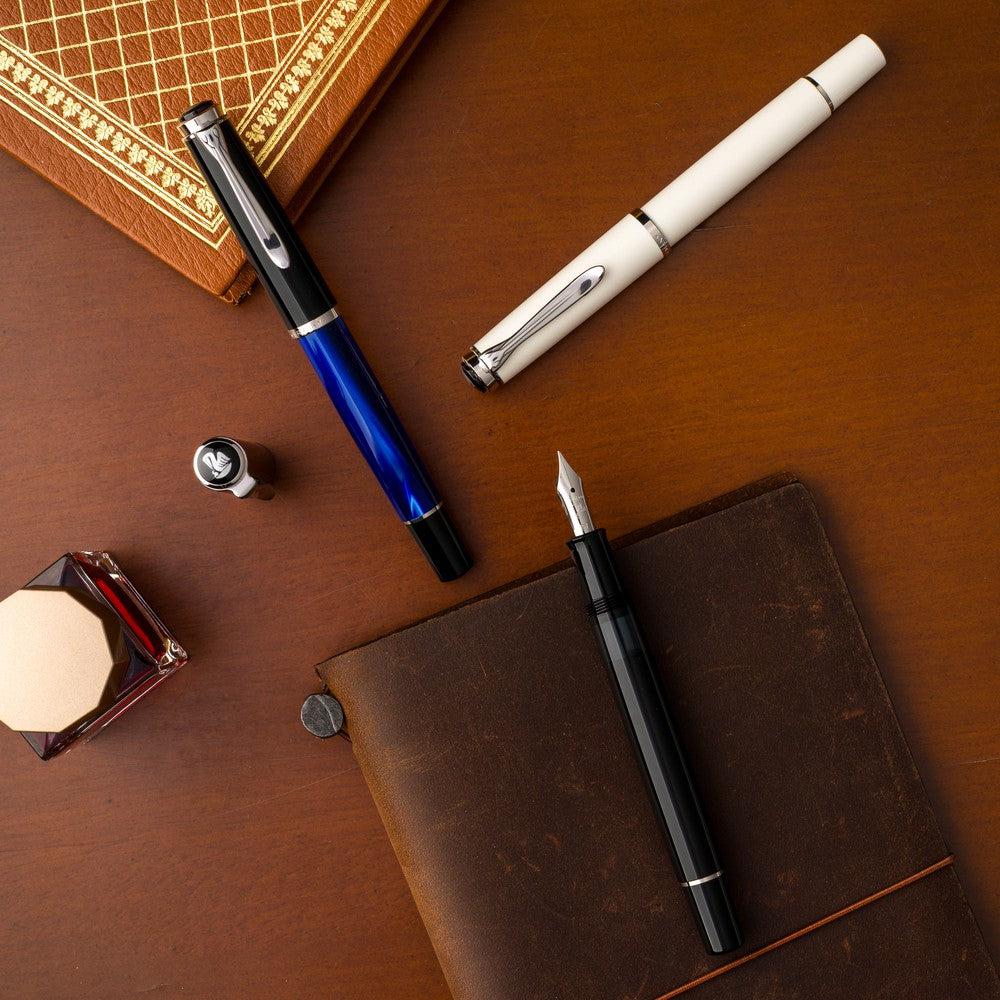 Pelikan M205 Classic Fountain Pen - This selection of fountain pens is a good representative of the superior quality and craftsmanship that the Pelikan brand is known for. The classic 205 series uses a high-quality stainless steel nib combined with an efficient piston-filling mechanism that both make for a pleasurable writing experience.
Opus 88 Fantasia Fountain Pen - This line of fountain pens is a quirky combination of form and functionality. The pen has a high-capacity eyedropper filling system, with a cool, piston operated shut-off valve that helps ensure proper ink flow.  This fountain pen's colorful design has a fun retro vibe that adds to its visual impact.
EndlessPens Gift Card - This is the gift of choice which some wives would prefer, as it has the added treat of shopping for themselves. This comes in several denominations to allow for more options to choose from. I think this would be appreciated by the husbands who'd like to take the guesswork out of selecting that fitting present for their wives.
There are other great options to choose from among EndlessPens' numerous selections of fountain pens and inks, as well as rollerball pens, ballpoint pens, and other stationery items. It is up to you to pick a loving surprise for your wife. Just remember, whatever you choose, let your wife know how thankful you are.
Use the code LEKZ10 to get a 10% discount!
* Not applicable for HopDrop, Clearance, On Sale items, and select brands.
Written by @lekzumali
Check out her musings on Instagram!