For week 2 of trying to find the best beginner gold nib, I have decided to compare and contrast the Pilot Custom 74 Fountain Pen and the Sailor Pro Gear Slim. Both are mid-sized fountain pens with 14 karat gold nibs. The Sailor Pro Gear Slim has flat ends and a swooping, football shaped body, while the Pilot Custom 74 is straight with rounded ends, having more of the classic cigar shape. Let's take a look at the specs of each one to get a better idea of what you might like!
Length Capped
143mm
Length Uncapped
125mm
Length Posted
155mm
Available Nib Widths
EF, F, M, B
Price Point
$159.99
The Pilot Custom 74 is a great mid-sized fountain pen that feels great in the hand, has a good selection of nib sizes, and comes in many different demonstrator colors. It takes Pilot's Con-70 convertor (included with the pen), which gives it a great ink capacity for a cartridge converter pen, holding about 1.23mL of ink!
Coming in all different demonstrator colors, it is fun to be able to see the inner workings of the pen, while still adding a pop of color to your day. The broad nib is smooth and juicy, allowing all types of ink properties to be shown off. Plus, the nicely sized section and good balance of the pen make the writing experience a truly special one.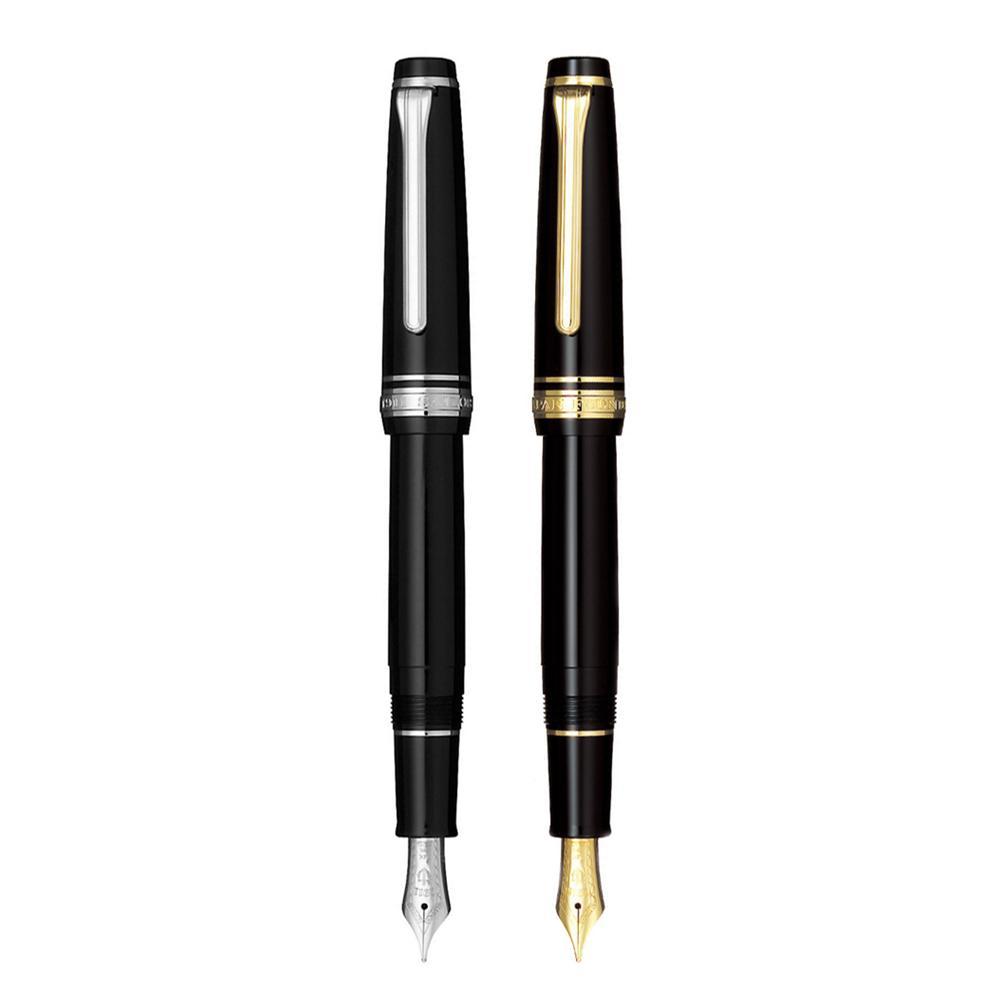 Length Capped
123.3mm
Length Uncapped
109.7mm
Length Posted
142.1mm
Available Nib Widths
EF, F, MF, M, B, MS, Z
Price Point
$113.99
The Sailor Pro Gear Slim Fountain Pen was my personal first gold nib, so I might be a bit biased with this one. That being said, this pen has a lot going for it. First of all, it comes in countless colorways and combinations. There are different store- and country-exclusives that you can get, along with yearly limited and special editions. Additionally, the PGS comes in a multitude of different nib sizes (listed above), even being offered with Medium-Fine, Music, and Zoom nibs!
While the PGS is a small pen, it does not feel too small. It is still very comfortable to write with for long amounts of time, as the section is almost as wide as the barrel. That also means that there are no pesky step-downs or uncomfortable edges. As for writing experience, Sailor nibs come with a considerable amount of feedback, which throws some people off. Others, like myself, love the feedback of Sailor pens.
Determination:
When looking at the specs and the mini reviews of each pen, they both have their upsides and their downsides.
The PGS is small, but the Custom 74 doesn't come in as many nib widths or colors. The Custom 74 has rounded ends, while the PGS has flat finials. There are very small differences between each of the pens that would be left up to the user to decide which they enjoy more.
My personal pick from these two pens is going to have to be the Sailor Pro Gear Slim. It fits great in the hand, writes really well and very consistently, and is even small enough that it can be carried anywhere without being too noticeable.
To add onto that, the sheer volume of color combinations that Sailor introduces onto the market every year is phenomenal. With the color choices and huge selection of nibs, you're bound to fall in love with at least one of them!
Tell me in the comments below which pen you would have picked out of these two! And don't forget that next week is the finale of this series, coming to a close with the LAMY 2000 Fountain Pen facing off with the Sailor Pro Gear Slim!
Written by EndlessPens Blogger Arlo Palmer